To all the baseball lovers, you must be familiar with the name Aaron Boone, former baseball infielder player and current manager of the New York Yankees. Aaron Boone rose to immense popularity due to his professional achievements in Major League Baseball. The 48-years-old Aaron started his baseball campaign in 1997. He made his MLB debut on June 20, 1997, for the Cincinnati Reds. After playing for 13 seasons in MLB, he made his last appearance on 4th October 2009 for the Houston Astros. After ending his playing career, he then started his managerial career. In 2018, Aaron Boone was named as the manager of the New York Yankees. In this article, we will be talking about Aaron Boone's son Brandon Boone.
The New York Yankees manager, Aaron Boone also worked as the sports analyst for ESPN's show, Sunday Night Baseball and Baseball Tonight. He worked as an analyst from 2010 to 2017. In 2018, Boone signed a four-year contract deal as the Yankees' manager which will expire after this summer. According to the Yes Network, Boone has signed another three-year contract deal with the club and option for a fourth year. Although failed to win the World Series Champion in his early managerial career, we hope he will win in the future with his team, New York Yankees. Without further delay, here are some interesting facts on Aaron Boone's son Brandon Boone.
Aaron Boon Personal Life and Marital Relationship
The Yankees' manager, Aaron Boone shares a blissful marital relationship with his beautiful wife, Laura Cover. Moreover, Aaron Boone's wife Laura Cover is a former actress and model. Besides, she rose to immense popularity for her modeling work with the popular magazine, Playboy magazine. Likewise, she also became the Playmate of the Month of their October 1998 edition. The former New York Yankees infielder tied a wedding knot with his long-time girlfriend, Laura Cover in November 2002. The couple has completed their wedding ceremony privately.
As of now, Aaron and Laura are married for more than 19 years. The beautiful couple is enjoying their romantic life. During their nineteen years-long relationships, they welcomed two children. The couple welcomed their first baby named Brandon Boone and three years later, they welcomed their daughter, Bella Boone. Asides from this, the couple also adopted two children. In 2012, they legally adopted two sons named Jeanel Boone and Sergot Boone.
Who Is Aaron Boone's Son Brandon Boone?
The beautiful pair has shared a blissful marital life for a long time. The couple exchanged their wedding vows in 2002 and are enjoying their marital life since then. During the long romantic relationship, the couple welcomed two children and also adopted two Haitian boys. As mentioned earlier, Aaron Boone's son Brandon Boone is the eldest biological son. Furthermore, Brandon Boone took birth after three years of his parents' marital life in 2005. The first-born baby of Yankees' manager, Brandon Boone is a very private person.
Moreover, Aaron Boone's son Brandon Boone is a high school student. As of now, Brandon is 16 years old. As of now, Brandon is a high school student from Canyon del Oro High School in Tucson, Arizona. Although Brandon has maintained a very secretive life, we can see him on his parents' social media handle. Furthermore, Brandon has followed in his father's footsteps and created his interest in sports. Thus, Brandon appeared to be an athletic kid and enjoys playing baseball and football. Moreover, he also plays baseball in college as a freshman.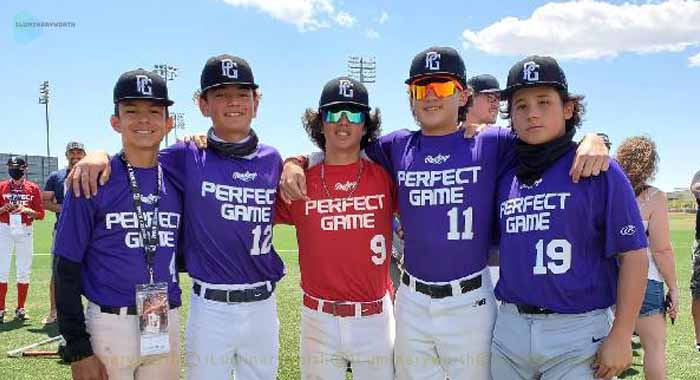 Brandon Boone Also Plays Baseball
Alongside pursuing his education from Canyon del Oro High School, Brandon is also developing his athletic ability. The high school student, Brandon plays baseball for his school team during his freshman year. While Brandon is engaged in baseball, his brother Jeanel is also a sportsperson. Moreover, he serves as a captain of Greenwich High School's soccer team. As of now, Jeanel has graduated from high school and enrolled at Western Connecticut State University.
Similarly, Brandon's younger brother Sergot is also a high school student who also plays soccer at Greenwich High School. As of now, Aaron's sons are still younger but has already created an impact on their respective field of sports. Furthermore, Aaron also expressed his happiness watching his son playing sports like baseball and soccer in an interview with Life of Dad in 2014. With such an amazing athletic ability and inspiration from his father, Aaron Boone's son will definitely make a huge impact in the coming days.
Extremely Close with His Siblings and Parents
Aaron Boone's son Brandon Boone is the eldest biological son. Besides, Brandon has three siblings named Bella Boone, Jeanel, and Sergot. Brandon shares a close relationship with all of his siblings. Moreover, Brandon also likes to spend his time with his family and siblings which can be seen on his parents' Instagram pictures.
Although Brandon has maintained his personal life very private, he is spotted alongside his father and siblings during the games. Likewise, Brandon's father has also shared numerous pictures of him playing baseball on his Instagram account. Thus, we can assume, Brandon is very close and enjoys company with his parent and siblings.
For more updates on celebrity news and entertainments make sure to follow iLuminaryWorth.