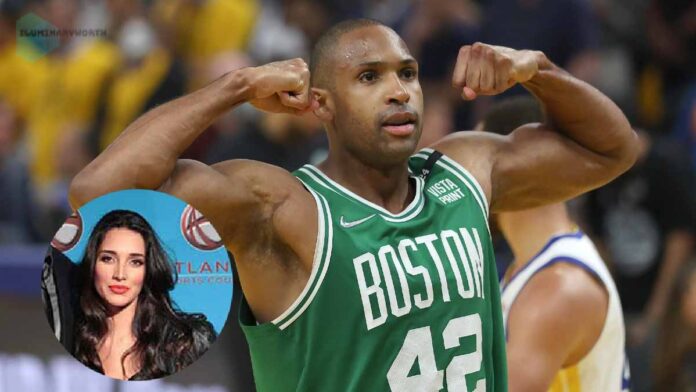 Born as Alfred Joel Horford Reynoso and professionally known by the name Al Horford is a Dominican professional basketball player. As of now, Al Horford plays as a center/power forward for the Boston Celtics of the National Basketball Association. The Puerto Plata, Dominican-born, Al Horford became the 3rd overall picked player by the Atlanta Hawks in the 2007 NBA Draft. The power forward started his basketball career at high school. Also popular by the name Big Al, Horford is the highest-paid Latin American basketball player. Likewise, he also appeared in the NBA All-Star team five times. Horford started playing college basketball for the Florida Gators. He became the NCCA championship in 2006 and 2007. In this article, we will be talking about Al Horford's wife Amelia Vega.
After high school, Horford attended the University of Florida where he accepted an athletic scholarship. He also played under coach, Billy Donovan. Horford professional basketball career started in 2007. Horford signed his rookie contract with the Atlanta Hawks. For nine years, Horford played for the Atlanta Hawks. In 2016, he moved to Boston Celtics and was later traded to the Philadelphia 76ers in 2019. Likewise, he also played for Oklahoma City Thunder for a season. In 2021, he returned to the Boston Celtics. After 15 years of a basketball career, he reached the NBA Finals with the Boston Celtics after defeating the Miami Heat. Eventually, his team lost to the Golden State Warriors. In December 2022, he signed a 2-year contract worth $20 million. Without further delay, here are some interesting facts about Al Horford's wife Amelia Vega.
Know About Al Horford Personal Life and Relationship
Following Al Horford's personal life, he is currently in a marital relationship with his wife, Amelia Vega. Furthermore, Al Horford's wife Amelia Vega is a former beauty pageant winner. Besides, she is also a model and had appeared in numerous movies and television shows. The couple met each other for the first time in 2009 during the Latin Pride Awards. During the time, Horford was playing basketball for the Atlanta Hawks. Besides, the pair met each other through an introduction from their mutual friend. Later, the pair started dating after meeting frequently. After dating for several years, the pair tied their wedding knot in a lavish ceremony in the Dominican Republic on 24th December 2011.
The wedding ceremony was attended by 400 guests including their close friends and family. The beautiful pair have been happily married for nearly a decade. Both Horford and Amelia have been enjoying their blissful marital relationship. During their nine years of marital relationship, the pair became the proud parents of five children. Without a doubt, the pair are enjoying their married life to the fullest. Looking at their social media profile, the couple does not hesitate to share their lovely pictures.
Who Is Al Horford's Wife Amelia Vega?
As mentioned earlier, Al Horford's wife Amelia Vega is popular for being a wife NBA player. Apart from this, Amelia Vega has gained massive fame from her own personal work. Before tying the knot with Al Horford, Amelia won the Miss Universe pageant in 2003. Amelia Vega took birth on November 7, 1984, in Santiago de los Caballeros, Dominican Republic. She is a former beauty queen who won the Miss Universe pageant in 2003 at the age of 18. Besides, Amelia is the tallest Miss Universe to date and one of the youngest to win the award at the age of 18.
After winning a beauty pageant title, she worked on numerous films and television shows. Apart from this, Al Horford's wife Amelia Vega is also involved in charitable work. She collaborated with her husband and worked with several organizations, including the Dominican Republic's national basketball team and the Special Olympics. In 2017, Horford won the NBA's Sportsmanship Award, in recognition of his commitment to community service. Besides, Amelia has been advocating for education and literacy in the Dominican Republic. She worked with Dominican Republic's National Literacy Plan and the Latin American and Caribbean Literacy Foundation. In 2013, she also launched the Amelia Vega Foundation, which aims to provide educational opportunities for underprivileged children in the Dominican Republic.
Amelia Vega Is A Doting Mother of Five
During their nine years of marital relationship, the pair became the doting parent of five children. Al Horford's wife Amelia Vega gave birth to four daughters and one son. Al Horford's children Ean Horford, Nova Horford, Alia Horford Vega, Ava Horford Vega, and Mila Horford. As an NBA player, Horford's career requires a lot of travel and time away from home. However, he and Vega have found ways to balance his career with their family life. In an interview with ESPN, Horford shared that his wife and children are his top priority, and he makes an effort to spend as much time with them as possible.
Al Horford's wife Vega has been supportive of her husband's career. Moreover, she is often seen on the sideline cheering at games. Likewise, she also regularly shares updates about their family life on social media. Thus, their fans get a glimpse into their daily routines and adventures. In a 2018 interview with People, Vega described her husband as a devoted father and partner.
For more updates on celebrity news and entertainments make sure to follow iLuminaryworth.