Legendary hip-hop artist popularly known by the stage name of Dr. Dre is an American rapper, record producer, and executive. Dr. Dre who is most popular for his classic album, The Chronic is also an owner of popular headphones brand, Beats By Dre. Considered as a lethal candidate for the upliftment of the West Coast G-funk hip-hop genre, Dr. Dre has contributed his utmost work in the American rap industry. Moreover, in this article, we will be discussing Dr. Dre's daughter Truly Young.
Apart from this, Dr. Dre gained massive success from the music industry. Likewise, Dre is also CEO of the record label, Aftermath Entertainment, and co-owner of Death Row Records. Talking about his fortune, Dr. Dre's net worth is evaluated at $820 million as of 2021. Furthermore, the Godfather of the hip-hop industry, Dr. Dre also managed to establish the career of famous music artists like Eminem, Snoop Dogg, and 50 Cents. Dr. Dre also helped to release the music albums with the help of his record label. Without further delay, let us discuss Dr. Dre's daughter Truly Young.
Dr. Dre Relationship with Nicole Young Started in 1995
After romantically involved with numerous women, Dr. Dre started dating Nicole Young in 1995. After his relationship ended with R&B singer Michel'le, Dre started dating Nicole Young. Afterward dating for four months, the couple announced their marriage publicly. They shared their wedding vows on 25th May 1996. Previously, Nicole Young was in a marital relationship with NBA star Sedale Threatt. This didn't become an issue in the early phase of their relationship.
Moreover, the couple welcomed their first baby son named Truice in 1997. Later, they also welcomed their baby daughter named Truly in 2001. Likewise, their twenty-four years of relationship came to the end after Nicole filed for divorce citing irreconcilable differences. Apart from this, Nicole also seeks $2 million a month for spousal support. However, the court favors the rapper in October and will not be forking out $1.5 million for the spousal support.
Who is Dr. Dre's Daughter Truly Young?
Dr. Dre's daughter Truly Young is the youngest child of the legendary music producer and hip-hop icon Dr. Dre with his relationship with Nicole Young. Truly took birth on August 8, 2001, in California, United States. As of now, Truly is 19 years old. Dr. Dre's daughter Truly Young is the youngest among Dre's six children. Furthermore, Truly is also popular on social media and as of now, she is attending the University of Southern California. Besides, Dre also bragged on social media that his daughter did all the hard work to get admitted to USC. However, some reports came out that Dre has donated millions of dollars to the University of Southern California.
Furthermore, Truly is also active across multiple social media platforms like Twitter, Instagram, and Tumblr. With the music gene in her blood, Truly is also a young emerging music artist. She also uploads her music works on her Instagram profile.
Truly Young Blasted Comments on Rapper 50 Cent
With her comments on Instagram, Truly has no problem poking the bear. When the rapper 50 Cent comments on Dr. Dre and Nicole Young's divorce and referring Truly's mother as crazy and b****, Truly didn't hesitate to comment back. The 19-year-old Truly blasted with the comment and trolling rapper. She also took her Instagram story and explained about not being okay for referring to women as b****.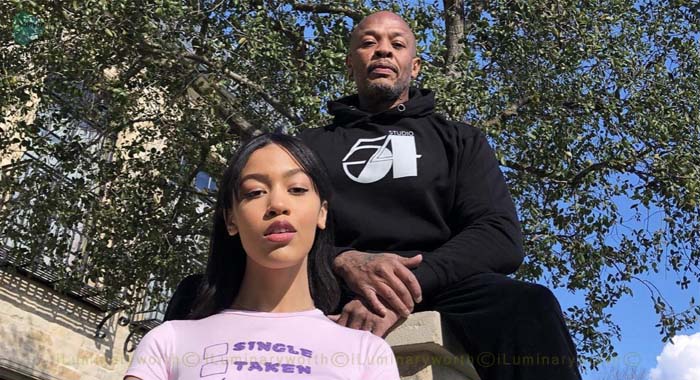 Who Is Truly Young Dating?
Stalking about Dr. Dre's daughter Truly Young's Instagram profile, we can confirm that she is in a relationship with her boyfriend, Aidan Korte. Moreover, Truly also has posted their pictures on her Instagram account often. Furthermore, there is no information regarding her boyfriend. The only detail about Truly's boyfriend Aidan is that he's from Texas and both are in a serious relationship.
Know About Truly Young Siblings
Dr. Dre's daughter Truly Young is the youngest daughter of his all relationship. Apart from this, Truly grew up alongside his old brother, Truice Young. Similarly, Truly also has three half-brothers named Curtis, Marcel Young, and Andres Jr. from his father's relationship. Likewise, she also has two older half-sisters named La Tanya Danielle Young, and Tyra Young. She also discusses her bond with her half-siblings on media. Likewise, she also shares a great bond with all of them. 
If you enjoyed reading the article, stay connected with iLuminaryworth for more celebrity news and entertainments.