In the world of business, Tilman Joseph Fertitta has marked immense fame. Also known by the name Tilman Fertitta is an American billionaire businessman and television personality. Tilman Fertitta took birth in Galveston, Texas in 1957. As of now, he serves as the chairman, CEO, and owner of Landry's Inc. In addition to this, Tilman Fertitta also owns the NBA franchise, Houston Rockets. On 5th September 2017, Fertitta reached an agreement to buy the Houston Rockets for $2.2 billion. The 66-year-old businessman became the star of Billion Dollar Buyer on CNBC. As per reports from Forbes, he was placed at No. 260 on the Forbes Billionaires List. The University of Houston dropout, Tilman Fertitta also serves as the chairman of the board of regents of the University of Houston System. In this article, we will be talking about Tilman Fertitta's son Blake Fertitta.
Tilman Fertitta started his business in the 1980s where he founded and ran a construction and business development. Likewise, Fertitta is also a partner in the first Landry's Restaurant, Landry's Seafood. In 1988, he completely acquired Landry's Restaurant and became the sole owner of the business. He took Landry's Inc. into a public company and it grew up exponentially. Likewise, Tilman extended his business to hotels, casinos, entertainment, and sports. He expanded his business in casinos in 2005. Likewise, Fertitta acquired many hotels. He was also awarded by the International Hospitality Institute on the Global 100 in Hospitality. Alongside his professional career, fans are also interested in his personal life. Tilman spent 26 years in a marital relationship with his ex-wife, Paige Fertitta. Together the pair welcomed four children from their relationship. Without further delay, here are some interesting facts about Tilman Fertitta's son Blake Fertitta.
Who is Tilman Fertitta's Son Blake Fertitta?
As mentioned earlier, the billionaire businessman, Tilman Fertitta was in a marital relationship with his then-wife, Paige Fertitta for 26 years. However, the ex-pair ended their relationship. During their togetherness, the pair welcomed four children. Among them, Blake Fertitta is one of them. Tilman Fertitta's son Blake Fertitta took birth in July 2001 as the youngest child of the couple. Being the youngest member of the family, there is no doubt that Blake has been pampered a lot by his parents and siblings. Blake's eldest sibling, Michael Fertitta took birth in September 1992. After two years, his brother Patrick Fertitta arrived. Similarly, he also has an elder sister named Blayne Alexandra Fertitta who took birth in September 1977.
All of Tilman Fertitta's children have grown up. As there is not any age gap between siblings, they have grown up together. While growing up, Blake and his siblings must have enjoyed and received each other companionship. They must have had a joyful time together in their childhood. As of now, Blake's parents are divorced. However, the family of six always spent time together. According to the online source, Blake and his family spend their summer break together for a week in 2021.
Blake Fertitta Completed His College
Being the son of a business mogul, Blake has learned many things from his father. It is no doubt that Tilman Fertitta has been a role model for their children. Talking about Blake's educational background, he went to Louisiana State University in 2018. He studied Sports Administration and Sports Commerce and completed his graduation in 2022. Likewise, his brother, Michael Fertitta went to the University of Mississippi. Likewise, he also went to the South Texas College of Law in 2022. Blake completed his graduation in 2022 and his father posted a picture celebrating his success. The whole Fertitta family attended Blake's graduation program.
Blake's brother Michael who completed his graduation from South Texas College of Law returned to Houston and started working in the family business. Unfortunately, there is no information regarding Blake Fertitta. What is he doing now, then? Has he carried on his father's legacy? Well, these are the question that might take some time to be answered. As Tilman Fertitta's son Blake has not revealed much more about his personal life. However, he often shares pictures of hotels and the Houston Rockets owned by his dad. No doubt that Blake will sooner or later involve in his father's business.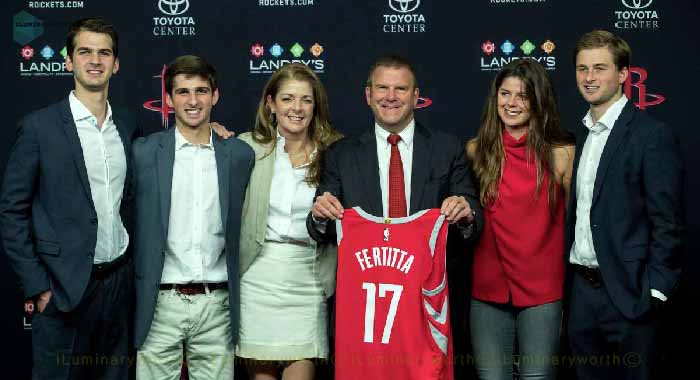 Blake Fertitta Is in a Loving Relationship
While Blake's professional life remains a mystery, he has been pretty open about his love life. Tilman Fertitta's son Blake Fertitta is in a loving relationship with Dana Wempe. Moreover, he has never held back from showing his love of life. According to Blake's Facebook profile, the couple has been dating since 14th February 2017. However, Blake first posted about his girlfriend on his social media in November 2016. Even since going public about their relationship, Blake has shared adorable pictures of the duo. Additionally, Blake Fertitta's girlfriend also shared their cozy pictures on her social media.
The lovebird has been taking care of each other. Moreover, they went to prom together in April 2017. Asides from this, the pair went to Louisiana State University and completed graduation together. The pair have been together for a long time and their relationship seems to be going well. However, the lovebird is yet to tie their wedding knot but who knows they might be focusing on their career. Tilman Fertitta's son Blake seems to be doing well both personally and professionally.   
For more updates on celebrity news and entertainments make sure to follow iLuminaryWorth.