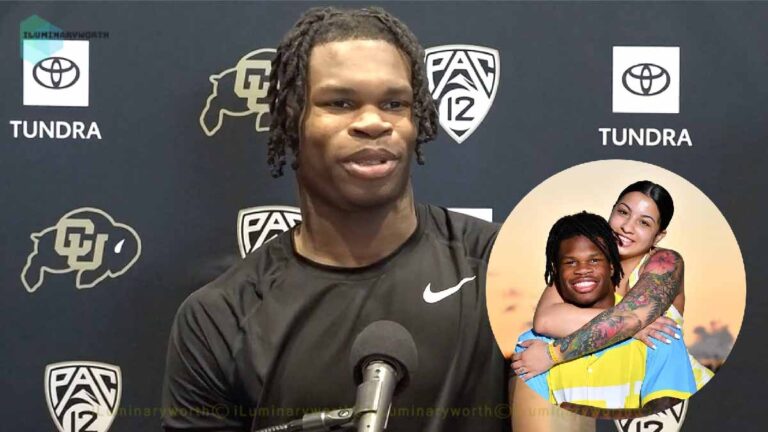 Hailing from West Palm Beach, Florida, Travis Hunter is an American football player. The 20-year-old, Travis Hunter currently plays as a cornerback and wide receiver for the Colorado Buffaloes. He attended Collins Hill High School where he started playing football. During his sophomore year, she played as a wide receiver for the Eagles. He made seven interceptions and 49 receptions for 919 yards and 12 touchdowns. Likewise, Hunter was awarded MaxPreps Georgia Player of the Year during his junior year. Talking about his senior year, he recorded 76 receptions for 1128 yards and 10 touchdowns. During his final school game, he defeated Washington State champ Graham-Kapowsin in the GEICO State Championship Bowl Series. Moreover, he was selected to play in the 2022 Polynesian Bowl where he won Offensive MVP honors with five receptions for 54 yards. In this article, we will be talking about Travis Hunter's girlfriend Leanna Lenee.
The 20-year-old, Travis Hunter was considered as the number one prospectus by top recruiting companies including 247Sports.com and Rivals.com. In addition to this, Hunter has also received a scholarship from Florida State in November 2019. He chose the Seminoles over offers from Alabama, Auburn, Clemson, Florida, Michigan, and Oklahoma. He made his commitment to the Seminoles after his first visit to the school in March 2020. However, Travis changed his commitment to Jackson State University coached by Deion Sanders. Moreover, Hunter became the first five-star recruit to sign with an HBCU. In 2022, Travis played for Jackson State and recorded his first collegiate touchdown against Alabama A&M in November 2022. After the departure of head coach, Deion Sanders from Jackson State, he also left and transferred to the University of Colorado. Without further delay, here are some interesting facts about Travis Hunter's girlfriend Leanna Lenee.
Who Is Travis Hunter's Girlfriend Leanna Lenee?
The rising football star, Travis Hunter is one of the top football prospects currently in college football. With his impressive performance, Travis Hunter has become a center of attraction in the media. While he has gained all attraction, many of his admirers have also shown their interest in his personal life. Following his personal life, Travis Hunter currently shares a romantic relationship with his gorgeous girlfriend Leanna Lenne. Travis Hunter's girlfriend Leanna Lenee is popular for being the girlfriend of the popular football player. Talking about their relationship, Travis and Leanna met each other for the first time at their high school. Moreover, they encountered during his senior year of high school at Collins High School in Suwanee, Georgia. After seeing Leanna for the first time, Travis fell in love with her.
With the attraction from Leanna, Travis couldn't hold back from taking a bold decision and message Leanna. After a two-month-long conversation, Leanna finally replied. The couple began texting and came closer to each other after getting to know better. Moreover, Leanna asked Travis to accompany her during her friend's birthday dinner which was accepted by Travis. The pair decided to take a further step into their relationship. Thus, they officially started dating in February 2022. During the time of Travis' first date, he was still a high school senior. Their romantic chemistry was something eye-catching. Besides, Travis Hunter's girlfriend doesn't hesitate to flaunt her love on social media profiles. They also share their first kiss, a moment filled with excitement and anticipation on Instagram. As of now, Travis and Leanna are enjoying the best moment of their life together.
Travis Hunter's Girlfriend Completed Graduation From KSU
Aforementioned, Travis Hunter's girlfriend Leanna Lenee came into the spotlight of the media for being the girlfriend of the rising football player. Apart from this, Leanna has kept most of her personal life private. Leanna Lenne took birth in November 2001. As of 2023, Leanna is 22 years old. Talking about Leanne's family background, she boasts a diverse heritage reflecting both African-American and Hispanic ethnicity. Her father is originally from Mexico and her mother holds the African-American culture. Apart from this, she is a devoted Christian who finds strength and inspiration in her beliefs.
Talking about Leanne's educational background, she enrolled at Collins Hill High School in Suwanee, Georgia where she met her boyfriend. After completing high school graduation, she attended Kennesaw State University. Moreover, Travis Hunter's girlfriend completed her college graduation in December 2022. She also shared her moment of reaching the milestone on her social media profile. As of now, Leanna must be pursuing her master's degree as she mentioned in the caption. Leanna is a remarkable person for a variety of reasons, including her dedication to her education and her exposure to a variety of cultures.
Leanna Lenne and Travis Hunter's Relationship
As Travis and Leanna pursued their shared dreams, their relationship grew stronger. Travis Hunter's girlfriend Leanna Lenee seems to be enjoying her romantic relationship. The beautiful couple are still young. Therefore, talking about marriage won't make sense. Travis must be focused on his football profession. Likewise, Leanna must be focusing on her master's degree. Travis joining the Green Bay Packers is one of Leanna's most cherished fantasies. Despite, both Travis and Leanna being focused on their goals, they spend their time together during their leisure time. The couple enjoys different activities together including fishing, playing Call of Duty, and watching movies. These common interests have strengthened their relationship and given them many special moments.
For more updates on celebrity news and entertainments make sure to follow iLuminaryworth.